76ers Fantasy Camp Details
August 25 - 27, 2023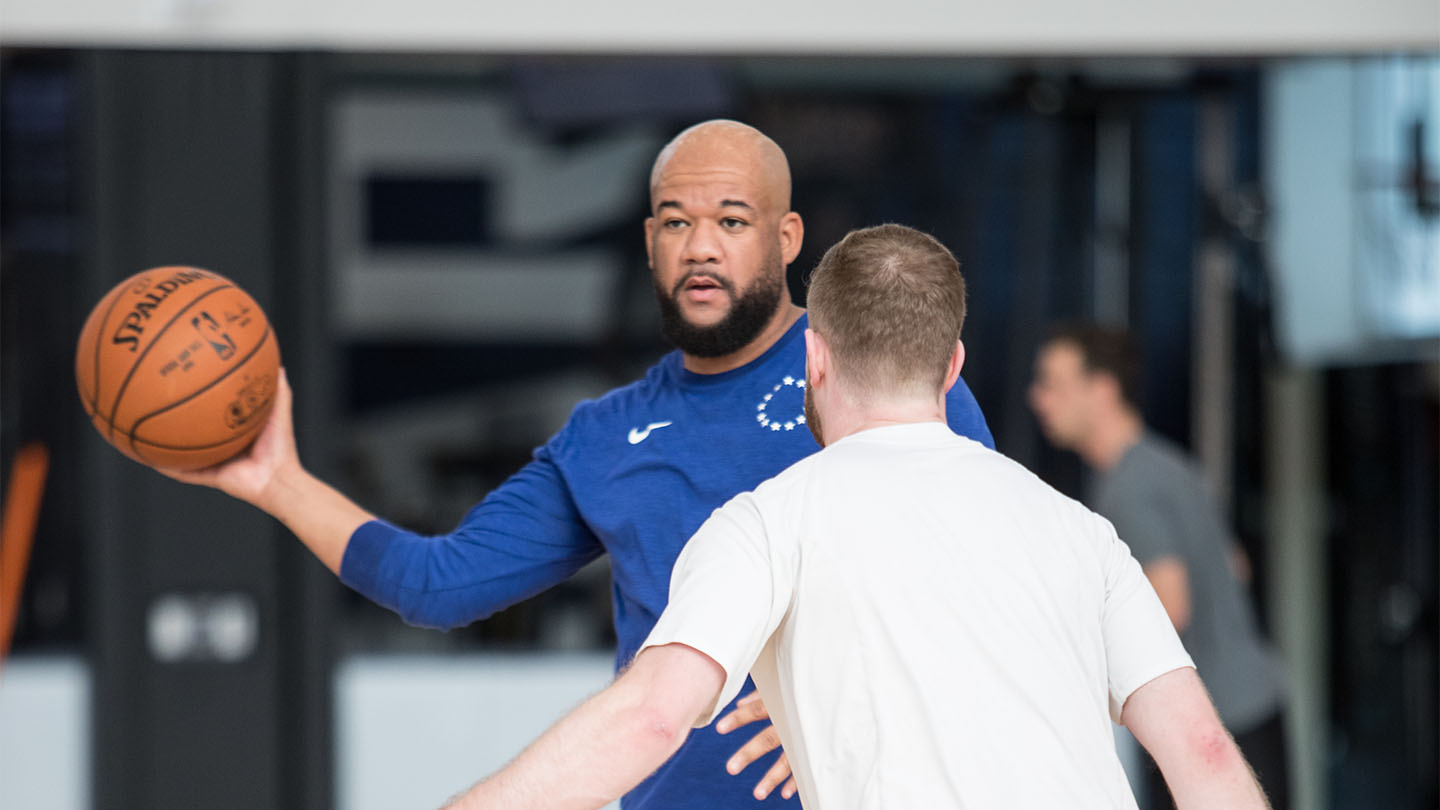 76ers Fantasy Camp
76ers Training Complex
1-99 S Front Street
Camden, NJ 08103
August 25 - 27, 2023
To speak with a team member or request more information please call us at 610-668-7676.
Participants
Men and women ages 30 and older
Target 40 players for session (10 players x 4 teams)
76ers have reserved 12 spots for current sponsors, foundation auction, and sweepstakes winner. Spots will include 4 Players, 7 Fans, 1 General Manager.
Standard Pricing
(plus tax)
| Experience | Cost |
| --- | --- |
| Players Experience | $4,995 |
| General Managers Experience | $4,495 |
| Fans Experience | $2,495 |
What's Included
76ers Personnel
1 Headline Legend (Dr. J., Allen Iverson)
Commissioner (World B. Free)
4 retired 76ers to serve as team coaches (Marc Jackson, Tim Perry, Billy Owens, Doug Overton, Jumaine Jones, etc.)
Emcee
Franklin (team pictures on Friday)
Athletic trainer
Strength & Conditioning staff member
Officials
Facility Access
Courts
Dining Facility
Rooftop
Locker Room
Schedule

Friday: 3PM to 10PM
Saturday: 12:15PM to 10PM
Sunday: 12:15PM to 10PM
76ers Will Provide
Personnel
Player package: two practice jerseys, one short sleeve t-shirt, one long sleeve t-shirt, two shorts, one quarter zip, three pack of NBA socks, headband, wristbands, personalized game jersey
Staff polos, quarter zips, t-shirts, shorts
Basketballs
Branding/signage
ESF Will Provide
Athletic Trainer
Officials
Meals
Player contracts
Championship trophy & awards
Video & photography
How To Enroll
Choose from one of our three experiences and click the ENROLL ONLINE button. Space is limited and applications will be accepted on a first-come, first-serve basis. Once your enrollment is complete, you will receive a confirmation email and be prompted to complete the required forms. The portal will give you access to view your enrollment details, invoice and any forms required before the start of camp.
Payments
A 20% deposit will be due at the time of enrollment.
The full balance of your tuition is due by May 15, 2023. We provide a convenient, flexible payment plan at the time of checkout.
Any enrollments after May 16, 2023, will be required to be paid in full.
Any enrollments after July 16, 2023, will be subject to an additional $250 late fee and must be paid in full.